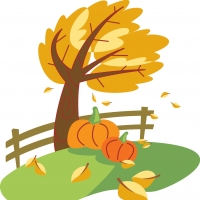 Being in Good Shape for the Shape We're In
by Pastor Timothy Feiertag | October 1, 2017
I wish I could give proper credit to whoever first answered the question "How're you doing?" with the answer, "Well, I'm in pretty good shape for the shape that I'm in." So, Trinity Lutheran Church, how's our youth ministry doing? Well, I think it's in great shape, actually, for the shape that we're in.
First, I should explain what I mean by "the shape that we're in." We are a congregation of about 150 members. We worship an average of about 50 people on a Sunday. That is our shape. That is who we presently are. And how youth ministry happens in this congregation will reflect that shape.
When you think of "youth ministry," what images come to mind? Are you thinking about the church of yesteryear, when Sunday School classrooms were bursting at the seams? Are you thinking about the larger churches with multiple programs for kids of varying age levels with activities and staff galore? Those are fine examples of youth ministry, but they are examples that do not reflect the shape we are. If we try to offer youth ministry in a pattern belonging to churches beyond our present size, we are unlikely to succeed because we won't be honest about our own strengths and limitations.
I think youth ministry at Trinity is currently in great shape. First, because we are blessed with some incredibly gifted kids. We get to learn and experience what makes each of our kids unique. They get to plug into the places in Trinity where their particular gifts and interests can best shine. Second, because we are blessed with some incredibly gifted adults. Our youth committee is committed to ensuring that the young people in our congregation have the support through Sunday School, children's sermons, and activities to grow in their faith lives. The committee depends on the generosity of time from our volunteers and generosity of finances from the entire congregation. When our youth are in need, this congregation responds! Because of our shape, we are uniquely poised to experience youth ministry in intergenerational ways, integrated throughout the entirety of our mission and ministry.
We have also been blessed with a designated staff position to coordinate youth ministry. As was announced at the end of worship on September 24, after prayerful consideration, the Council has ended Trinity's relationship with Justin Boyett as Children, Youth and Family Coordinator. At this time, we are confident that we have the people and programs in place to support our youth and family ministries. At the October meeting, the council will discuss our future staffing needs regarding our youth ministry. Your prayers and feedback are most welcome in this discernment process. God is not done shaping us for the ministry ahead!
Yours in Christ,
Pastor Tim