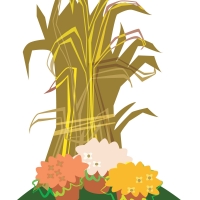 Gathered Together
by Pastor Tim Feiertag | November 1, 2017
"I believe in . . . the communion of saints. . . ." (Third article of the Apostles' Creed)
"If you answered 'yes' to any of these questions, you may be in an abusive relationship. You are not alone. Please call a number below to talk with someone." (Resource poster in each of Trinity's bathrooms)
"Neighbors in Faith Strategy: To encourage and celebrate relationships between Muslims and other faith/non-faith communities . . . With the following activities: . . . Building stronger communities together; Engaging in public issues in promotion of a peaceful world." ("Faith Over Fear" event handout)
"O God, we remember with thanksgiving those who have loved and served you on earth, who now rest from their labors." (All Saints Day prayer petition)

The transition from October into November is a particularly rich time in the life of Christian communities. That is especially true this year, and especially for Trinity Lutheran Church. The quotes above are each a sign of how God has gathered us together, how God invites us to gather others, and how God's grace comes to us through those who surround us.
As was noted in last month's Tidings, we have been honoring October as Domestic Violence Awareness month. In worship on October 8, we blessed resource posters for each of our bathrooms to provide help to those trapped in abusive relationships. Each time I see those posters now, I envision God's love reaching out to those who have felt alone in their struggle. We are gathered with those who are hurting in this way.
On October 24, Trinity in partnership with Everett United Church of Christ hosted an event "Faith Over Fear" to hear from an American Muslim woman about how Christians and Muslims are connected to one another, how attempts to vilify and persecute Muslims harms all Americans, and ways that we can foster a spirit of community across religious barriers. When the congregation affirms that God loves everyone—no exceptions, we know that our Muslim neighbors have been gathered under the arms of that same loving God.
On Reformation Sunday, October 29, Lutherans around the world honored the 500
th
anniversary of the beginning of the Protestant revolution through Martin Luther's 95 theses (a public call to dialogue about how to reform the Church to ensure that God's grace is freely offered). As has been our practice, that is the day that we hear our confirmand affirm his faith as we recite together the Apostles' Creed, one of the spiritual writings around which Christians have gathered for centuries.
The following Sunday, November 5, we will celebrate All Saints Sunday, when we acknowledge the great cloud of witnesses, the saints of God who have gone before us. We gather to lift our grief before God, to celebrate the ways these witnesses continue to influence us, and to affirm our hope that we will be reunited with them in God's loving embrace when our work on earth is through.
Thank you, gracious God, for gathering us in your love here in the world which you created which you continue to hold near to your heart. As we have been gathered by you, may we seek the lost and hurting that they too may feel the comfort of your presence. Amen.
In Christ,
Pastor Tim