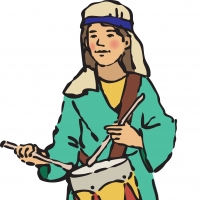 In Praise of Advent
by Pastor Tim Feiertag | December 1, 2017
I wouldn't say I'm getting cheated. Not exactly. But I would have to admit that I feel a little disappointed. My favorite season of the whole year will be as short as possible this year!
I love Advent! I really do. After more than five months of the liturgical season of
Pentecost, we finally reach the start of a new church year with Advent, a season of
waiting. A season of preparation. A season of some of the best hymns in the entire
hymnal!
Advent is already a short time. It is only four Sundays long. It is always four Sundays long. It will be four Sundays long again this year. So, how can I say that Advent will be shorter this year? Advent officially begins on the first Sunday after Christ the King
Sunday, four Sundays before Christmas Day. And that usually means that Advent starts on the last Sunday in November. And there are usually at least a couple of days between the last Sunday of Advent and Christmas Eve.
But this year, Christmas Day is a Monday. So the Sunday before Christmas Day is the day before. So, our Christmas celebrations officially begin on the evening of the last Sunday of Advent. It is a confusing thing, what these calendars do.
"Then they will see the Promised One coming in the clouds with great power and glory . . . But as for that day or hour, nobody knows it—neither the angels of heaven, nor the Only Begotten—no one but Abba God. Be constantly on the watch! Stay awake! You do not know when the appointed time will come." (Mark 13:26,32-33)
But the time we have is sufficient. We are held in God's time. And so, during this
Advent season, we will prepare, not simply for another celebration of Christmas, but for the time when God's vision for this world will be made whole. We will listen to the scripture, to one another, and to the world around us for the signs of God's favor, God's incarnational love.
"Come now and set us free, O God, our Savior. Come, O Lord Jesus, reconcile all
nations." Hymn 247 Come Now, O Prince of Peace verse 3
In Christ,
Pastor Tim