Pastor Jocelyn Carson writes a monthly letter to members and friends of Trinity. Please read her letters, and feel free to comment.
---
by Pastor Jocelyn Carson | April 30, 2013
Dear Friends,
Last month I wrote about the concept of "Sabbath rest" and invited you to be part of theAll-Church Summer Retreat in August. I wrote of Sabbath being a gift from God to us for the refreshment of our bodies and our souls. Vacation time, days off, coffee break, and even a brief walk at noon, can give us a sense of renewal and send us back to our work with a clearer head. Gathering with other followers of Jesus for worship also is a gift intended to refresh us and to give praise and thanks to God.
Sunday morning worship has been the practice of Trinity Lutheran Church since 1904. We, like Christians around the world, gather on Sunday morning in recognition of Jesus' resurrection on the first Easter Day. In John's Gospel, the disciples gather on the first day of the week but they gather in the evening. For early Christians, living in Jerusalem, keeping the Sabbath from sundown Friday until sundown Saturday, (the seventh day) would have been the normal practice.
As the church moved from Jerusalem, into Judea, Samaria and the entire known world, worship practices began to change. The Apostle Paul always began his ministry in a new city by worshiping in the Jewish synagogue, moving into the homes of Gentile Christians later to share the Good News with all people. In honor of the resurrection Christian worship was held on Sunday not on the Sabbath day.
Last year while I was visiting friends in Dubai in the United Arab Emirates, I had a taste of what it would be like to be the minority religious community. In Dubai, the days off were Friday and Saturday, with Sunday being the day that everyone went back to school or to work. Sunday morning in Dubai is a difficult time for worship and prayer. Being there made me think of how hard it can be to make it to church here, too.
Sunday morning is no longer set aside by our culture as a time for church. There are many alternatives to worship such as, work, sports, sleeping in, gardening, and family activities. I give thanks every Sunday for those who take time out of their busy weeks to refresh themselves and others by participating in worship. I also am thankful for parents who brought me to church on Sunday mornings. In worship I learned of God's love for me and the world and I learned to love and serve my neighbors. In worship I experienced music, prayers, community, and peace.
When you can, come and share in the blessings of worship for your life,
Pastor Jocelyn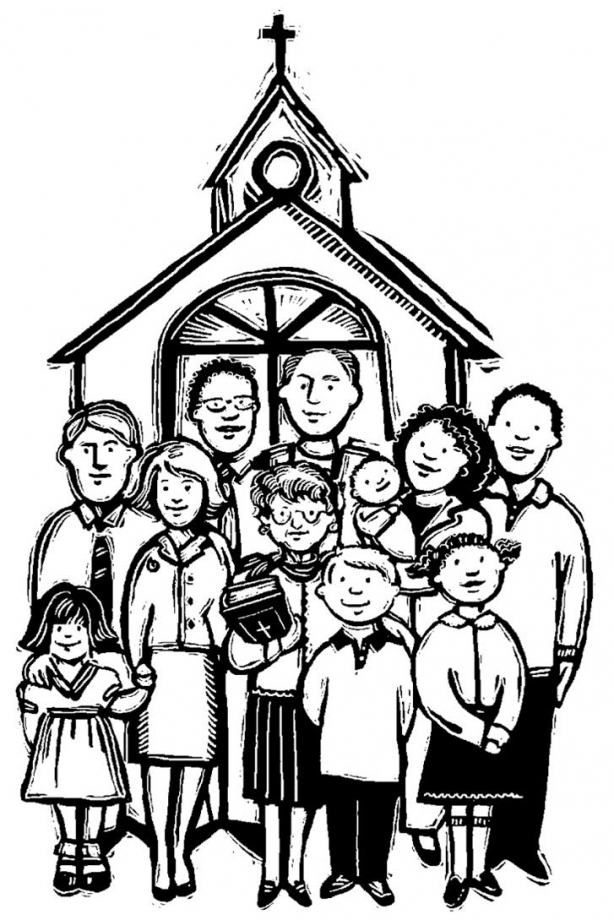 <![endif]-->
by Pastor Jocelyn Carson | July 7, 2012
Welcome one another, therefore, just as Christ has welcomed you, for the glory of God. —-Romans 15:7
On Sunday mornings at Trinity Lutheran Church we have a number of opportunities to say a word of welcome and peace to one another. We share the Peace of the Lord as we greet those whom we know and those whom we are meeting for the first time. Sometimes the peace turns into a brief conversation as we share important information and maybe a laugh with one another.
We also greet people before and after worship and these times of welcome go a long way in helping those new to Trinity feel at home. Hospitality is something we do really well! Whether it is the friendly greeters and ushers or the amazing hostesses and hosts during coffee hour, you welcoming people do a great job! Thank you for your welcoming spirits, your bravery in greeting strangers, your helpfulness to those with a special need. You make Trinity a warm, friendly place to encounter the Word of God.
I especially want to thank those of you who take turns as coffee hostesses and hosts!
Actually that title is a bit misleading. You provide much more than "coffee"! There is always tea, juice and ice water in addition to the "Fair Trade" coffee and a warm smile. The choices of things to eat vary from week to week but they are always delicious! The treats usually include items that are gluten and/or peanut free and there are always cheese and crackers provided by the hostesses and the hosts! Thank you women and men of Trinity who do this fabulous service for the rest of us!
Would you like to help with this welcoming ministry? You do not have to be able to bake—maybe you could be the one to bring the cheese and crackers—and purchased items are very acceptable! There are directions posted for making Lutheran World Relief Coffee and John Martin is always willing to help with set up and clean up. Thank you John!!! Some of those who serve as hostesses or hosts have indicated that they prefer to have someone else serve with them. This is a great way for two people to pair up and share the work and the fun. If you would like to volunteer to be half of a team, please call Gina in the office (425-252-1239) and she will pair you with an experienced person.
All of us are part of this hospitable welcome! Whether we are servers or partakers, our kindness and listening ear can be just what someone else needs that day. I hope that all those who enter our doors can find the welcome expressed in the choir song, My Shepherd Will Supply My Need* sung in our June 10th concert: No more a stranger, nor a guest, but like a child at home.

Welcome home all who enter through these doors! May you be refreshed and ready to take Christ's welcome with you all week long!
*Lyrics from Psalm 23, paraphrased by Isaac Watts
by Pastor Jocelyn Carson | May 30, 2012
In late April I flew to the city of Dubai in the United Arab Emirates, a lovely place which is rapidly becoming a tourist destination due to its sunny climate. It has beautiful beaches, and it has amazing and unique buildings, including some of the most beautiful resorts and hotels in the world. If you add in the great shopping at some of the world biggest and fanciest malls, one of which includes a winter wonderland complete with skiing and penguins, you will know why many people choose to visit Dubai.
None of these wonderful places is why I went. I went to see my best friend from high school and her husband, who have been living and working in Dubai for the last fourteen years. They will retire in June and leave Dubai, so this was my last chance to visit them and see Dubai from a non-tourist point of view. I loved the amazing buildings and I fell in love with Arabic mosaics and designs. I found shopping in the malls and the traditional "gold and spice souks" to be a great adventure and lots of fun, but I went to Dubai for the people. Maggie and I were able to share memories of our mothers that only we have—what a blessing for both of us, now that they are gone.
I was able with Maggie and Russell's help, to see a side of Dubai that most tourists will not see. I visited with young Emerati women, all robed in black from head to toe in their math class taught by Russell. I had tea with Maggie's fellow teachers and friends at the Dubai American Academy. I met the attendees of a baby shower, both male and female, who included people from almost every European country who had come to Dubai to work in a variety of fields from engineers to bakers. That evening I was part of an international community gathered to celebrate a baby and her parents.
Far from being fearful when riding the Metro by myself, I felt safe and welcome. Everywhere I went I felt free to be my usual friendly self and had a number of interesting conversations. People I met wanted to know where I was from and were happy to tell their own stories. In many ways it was a very strange land and I was a stranger, but I was welcomed, sometimes because of Maggie and Russell, but often just because I stopped and asked a question. For a week, I enjoyed this great adventure and I look forward to traveling to some other amazing place in the future. My world is now both larger and smaller. Just fourteen hours away by plane, I met people loved by God, who had stories to tell. Thanks Maggie and Russell for this great time!
May we all be blessed by those strangers we meet who become friends and may we always give thanks for our amazing differences and our amazing similarities! Please watch the Pew News for when I will be sharing my amazing pictures and stories.
by Pastor Jocelyn Carson | April 30, 2012
The joyous Easter season begins with Easter and continues until Pentecost. We have seven glorious Sundays to celebrate the Good News of the resurrection. Of course every Sunday of the year is a celebration of the "first day of the week" when the women came and found the empty tomb! During the Easter season we celebrate with special joy because Jesus Christ was raised from the dead and conquered sin and death on our behalf.
The resurrection of Jesus gives us reason to trust that God holds our future in his hands! As far back as the prophet Jeremiah, God promised, "For I know the plans I have for you declares the Lord, plans for your welfare and not for harm, to give you a future with hope." (Jeremiah 29:11) Easter and the resurrection encourage us to trust in our hopeful futures with God!
What we will do with our earthly futures is a question we ask at every age. "What will I be when I grow up?" is a question not just for children but for all of us. In her book, The Gift of Years: Growing Old Gracefully, Joan Chittister, invites us to live hopefully and with purpose every day of our life. This is a book that a small group could use to walk with each other through times of transition and change. I invite you to contact me if you would like to be part of such a small group.
On April 15th we celebrated the many generations of people who are part of Trinity. In the Circle of Blessing led by Professor Mark Jackson, we honored those of every age, who are making their own unique contributions to our faith community and the world. From the youngest to the oldest, God's grace carries us through the challenges of each day, strengthening us to serve others.
Joan Chittister includes in her book this great poem by Robert Browning:
The last of life, for which the first was made:
Our times are in His hand
Who saith, "A whole I planned,
Trust God: see all, nor be afraid!"
This poem reminds us that Trinity is a faith community where we can grow older and wiser together. At any age, we can continue to grow in faith and trust in the God who loves us and holds us!
Blessings on your further
by Pastor Jocelyn Carson\ | March 26, 2012
Our Lenten prayer journey will soon be coming to an end as we walk together through the solemnity of Holy Week and move into the joyous season of Easter. In just a few short days we will move through a myriad of emotions evoked by hymns, prayers and Bible verses. I am reminded of the words of Psalm 30:11-12, "You have turned my mourning into dancing; you have taken off my sackcloth and clothed me with joy, so that my soul may praise you and not be silent."
Holy Week begins with the joyful, exuberant procession of Palm Sunday, when our children will lead us up the aisle with waving palms and glad hosannas! We hail Jesus as our King, and we welcome the in-breaking of the Kingdom of God. Too quickly our joy turns to sorrow as we hear the words of the Passion of Jesus from Mark's Gospel. The story begins with Jesus celebrating the Meal with his friends and ends with some of them placing his body in the tomb. We will receive Holy Communion at the Altar on this day.
On Maundy Thursday, we are invited to worship with our friends at Central Lutheran. We will hear the words of Jesus about loving and serving one another and we will take part in the Lord's Supper.
On Good Friday, we meet in our darkened sanctuary to hear the Passion Story again, this time from the Gospel of John, interspersed with familiar hymns of the Cross. As our worship concludes we have the opportunity for Prayers around the Cross. This time of personal and corporate prayer echoes the prayers that we have prayed during our Lenten journey this year.
On Easter, we sing our glad Alleluias once more when God indeed clothes us with joy! Our Lenten journey becomes an Easter journey as we walk with our resurrected Lord through all the days to come.
We are truly Easter people—even as we walk through the shadows of Lent, we have always known that our journey ends in joy at the empty tomb! As we move through our personal sorrows and joys, we know that God walks each step with us and that our journey with God always ends with the peace and joy of the resurrection.
Blessings on your continuing journey—may it lead you ever closer to the heart of God,