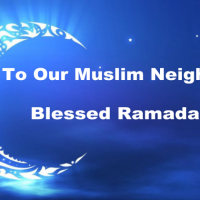 June Pastor's Letter
by Pastor Tim | June 14, 2016
"God Loves Everyone - No Exceptions."
This is the banner displayed on the side of our sanctuary building for most of the year. It is one way that this congregation proclaims the good news of God's lvoe to our neighbors, one way we live out our mission to carry God's love to a broken and hurting world.
"To Our Muslim Neighbors - Happy Ramadan."
This is the banner that will be displayed on our building from June 6 through July 5, the time of the Muslim observance of Ramandan. You might be wondering why a Christian church would encourage a faith practice outside our own Christian tradition. Or perhaps it seems like a good thing to do, but you aren't sur eyou could explain to your neighbors why your church is doing this.
We live in atime of increased disrespect for our neighbors of other faiths. Muslims in the United States live under the daily weight of suspicion and fear. Individuals and communities have been verbally and physically assaulted. Right here in Snohomish County, the Islamic Center of Mukilteo has been the victim of a smer campagin, with the site of their proposed mosque the target of vandals. This violates our understanding of how Jesus commanded that we are to treat our neighbor.
Often, this violence against our Muslim neighbors is done in the name of Jesus by people who identify as Christian. If we remain silent in the face of these acts, we are complicit in harming our neighbor. We must preach a word of love, and we must do so in a language our neighbor will hear.
And so, we will pray blessings upon our Muslim neighbors as they worship God through the month of Ramadan, engaging in daily fasting and praying. We do so, trusting that faith is not a work we achieve, but is a gift of God. When we support the faith walk of our neighbor, we may be surprised to discover that our own Christian faith is deepened.
I look forward to the opportunity for us to continue to be in dialogue with one another, with our Muslim neighbors, with our neighbors of other faith communities, and with those not connected to any faith community, about how God is at work in our world. We will continue to discern how this community called together by Christ's love can express that love from the corner of 24th and Lombard to the ends of the earth!
Yours in Christ,
Pastor Tim