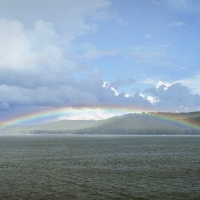 When God Calls Us to a New Journey
by Pastor Tim | November 22, 2016
When God Calls Us to a New Journey
Cornelius replied, "Four days ago at this very hour, at three o'clock, I was praying in my house when suddenly a man in dazzling clothes stood before me. He said, 'Cornelius, your prayer has been heard and your alms have been remembered before God. Send therefore to Joppa and ask for Simon, who is called Peter; he is staying in the home of Simon, a tanner, by the sea.' Therefore I sent for you immediately, and you have been kind enough to come. So now all of us are here in the presence of God to listen to all that the Lord has commanded you to say." (Acts 10:30-33)
To be called together to be church for the sake of the world is a wonderful thing. Some of us came to Trinity Lutheran Church as infants and have known no other church home. Others of us arrived for just a season, knowing that we would soon be called to move on. We celebrate the gifts that each person is to this community during the time they are with us, and we honor the legacies of those whose contributions continue to influence us long after they have answered a call to move on. At this time, we recognize that God has been active in calling folks both to and away from Trinity staff positions.
Maria Martinez joined us as janitor in December of 2013, joined by her husband Pablo in a shared staff position since November of 2014. We honor their recent discernment that their household schedule had become too full to allow them to continue their employment with us. I am grateful for all their hard work through the years. Maria asked me to convey to you how glad she and Pablo have been for their time with us.
In mid-November, we welcomed Evan Cordell onto the staff as our new janitor. Hopefully you will have an opportunity to meet him as he works to keep our buildings clean, secure, and hospitable for the various groups and ministries that meet here. Evan is a 2009 graduate of Everett High School and also works at Artistic Drywall Textures. He is a resident of north Everett.
Amy Stamatiou has coordinated our Youth and Family Ministry since May of 2009 (with a brief time away in 2015 as she completed her internship requirement for school). She is responding to God's call through the community of Trinity Lutheran Church of Freeland to full time work in her field of study at that congregation. While we celebrate the gifts that she will bring to her new position, we will grieve the loss that her departure will create among us.
Gina Castillo first came to us as the secretary in August of 2000. She left in May of 2005 and came back in June of 2010, and has integrated the secretarial duties with the oversight of the Trinity Aid Bank. Gina recently, after prayerful discernment, decided that the time had come for her to complete her work among us. Because we know her heart for service and her attention to detail, we will join her in praying that God lead her through her discernment period to know what will be her focus in this next phase of her life.
At this time, the council, with the assistance of the staff support committee, has not yet begun interviewing candidates to join the staff of Trinity. We trust that even now God is preparing leaders to hear a call to this place to join us in the ministry ahead for us. We welcome your prayers, your insights, and your assistance as we discern how God is calling this community forward together, and what staffing configuration will best serve our mission and ministry at this time and for the foreseeable future. I trust that God's grace is sufficient for us, that God has granted us all that we need. I look forward to continuing to answer God's call with you.
Yours in Christ,
Pastor Tim